The Ryviu Product Reviews app, which helps you beautifully showcase product reviews and star badges, is now integrated with GemPages. This article will guide you through the steps to install the app in your Shopify admin and GemPages.
In the Shopify App Store

Step 1: Find the Ryviu Product Reviews app on the Shopify App Store. Install the app by clicking on the "Install app" button.

Step 2: Hit "Install app" after reviewing the permissions.

Once the installation process is complete, you will be taken to the Ryviu Product Reviews' Dashboard to configure the app.

Otherwise, you can always locate the app in your store's app list, under Shopify Admin > Apps.
In GemPages Editor

After the app has been successfully installed on your store, it's time to install the element in the GemPages Editor.

Step 1: Go to the GemPages Dashboard, select one of your pages, and enter the Editor via the "Edit" button.

Step 2: In the Editor, click on the "Library" button on the top bar, then switch to the Elements tab.

Step 3: Search for "ryviu" using the search bar and click on the result.

Step 4: Hit the blue "Add Element" button at the bottom right corner to install the element on your Editor.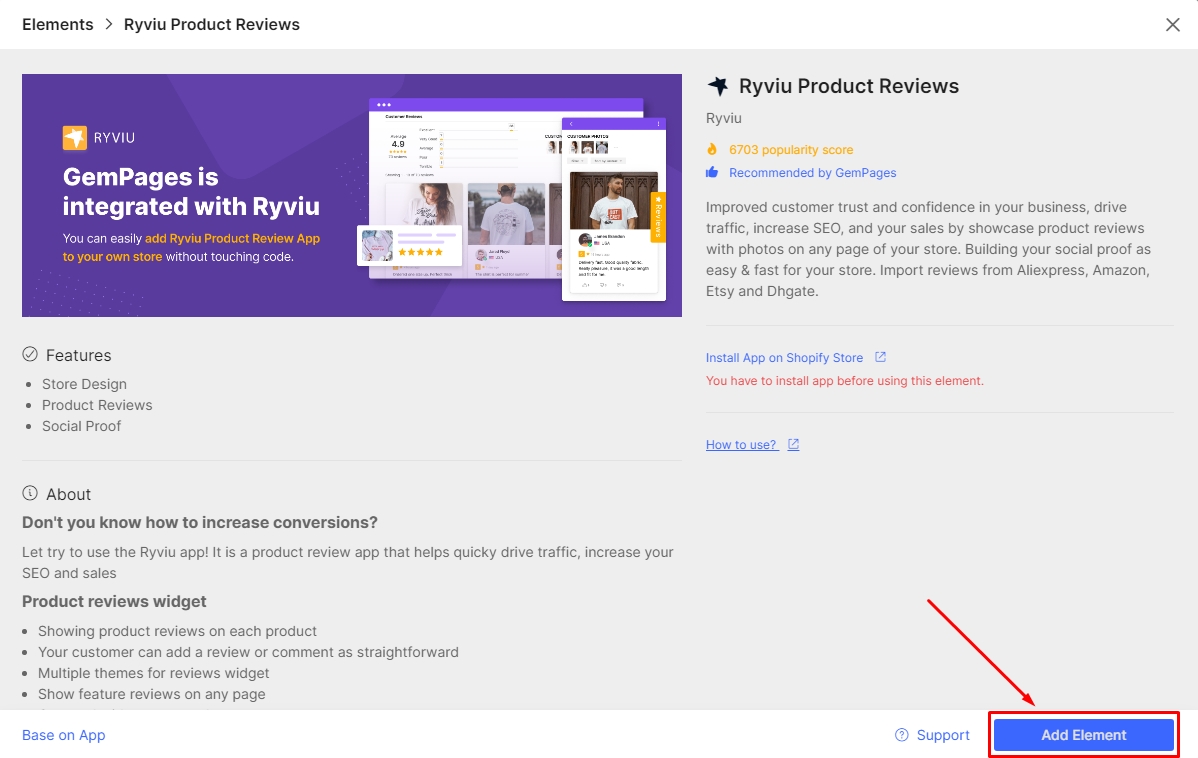 Step 5: Exit the Library and you will find the newly added Ryviu Product Reviews element on your left sidebar, under the Third Party section.

Please visit this article to learn how to configure Ryviu and design the app with GemPages. Should you need any help, our GemPages Support Team is here for you.
You can reach us via email or live chat at any time.