What happens when my free trial ends?
GemPages welcomes all newcomers with a 10-day free trial on the Business plan, Analytics feature excluded. You are granted access to all page types, design elements, third-party integrations & template library.

When the trial ends, you can still view the dashboard but all mentioned features will be blocked. Rest assured that no charges will be billed to your credit card until you upgrade.

If you've already decided on a plan, splendid! Upgrade your account to one of the three plans here with just one click.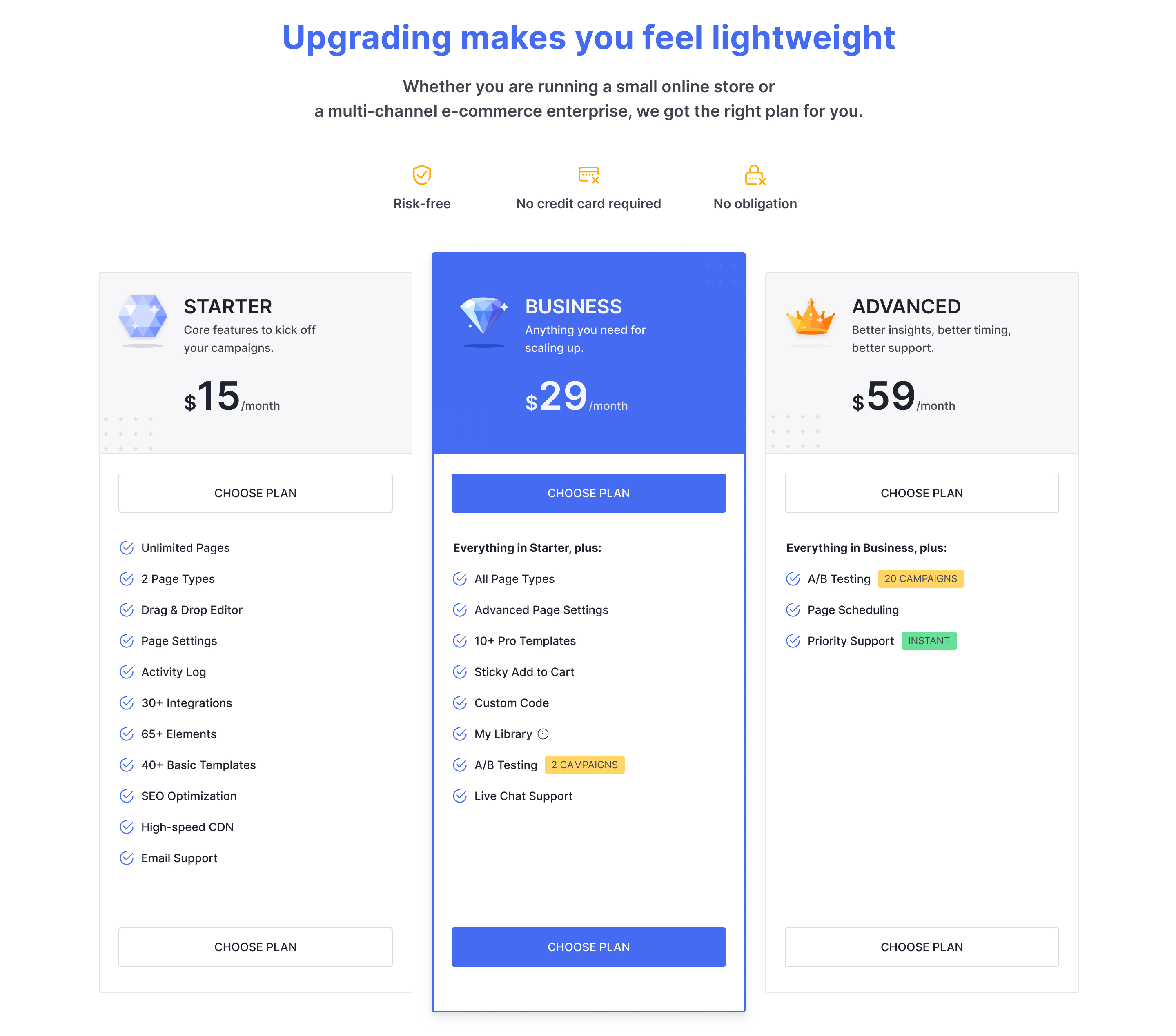 In case you'd like more time to experience the app, we are happy to extend the trial for you. Place a request by completing this Experience Survey and we will get back to you ASAP.
What happens to my live pages?
After your trial expires, all live pages created by GemPages still remain untouched.

But if you uninstall GemPages, the action may lead to these pages not working properly. Some of the main reasons are missing CSS & JS files, theme change, or core script update from the GemPages server. Please contact our customer support if you run into any problems with these pages, as we do provide page maintenance within 3 months of the trial expiration.

If you want to revert your pages back to the original template from your Shopify theme, follow our instructions for homepages and product pages.

We do not recommend editing the pages with a different tool like the Shopify editor or other page design apps. Different page stylings and codes can easily conflict, which ultimately requires re-editing and re-publishing through GemPages.
What happens to my data?
New changes from Shopify's GDPR require us to erase customer data after a certain amount of time after you stop using GemPages or Shopify.

Unlike your live pages, your data is scheduled for erasure after 12 months if you choose not to proceed with a paid plan after the free trial.

View our Data Retention & Erasure Policy to know exactly which data of yours will be erased.
GDPR Compliance
GemPages complies with GDPR data practices thoroughly. You can learn about your rights and exercise them using this form.
How can I retain my data?
Signing into GemPages can stop your data from being erased. We will notify you via email regarding the erasure date, so be sure to keep an eye on your inbox!

Thank you for using GemPages. If there are any questions remaining, check out the articles above or contact us directly via email & live chat to have them answered!