In this article, we'll introduce you to
Publish Settings
found in the GemPages
Editor
, and everything you need to know to make the most out of this feature.
What is Publish Settings?
Right from the get-go, Publish Settings was meant to be a hub where you have access to all page activities and configurations. This means the feature is constantly being developed, and the Publish Settings panel will expand with more powerful configurations as time goes on. Our help documentation will also be updated as soon as new things are added!
How do I access Publish Settings?
Step 1: Go to your GemPages Dashboard, and select one of your pages to enter the Editor via the "Edit" button.
Step 2: Locate and click on the 3-dot button on the farthest right to bring up more options
Step 3: Click on "Publish Settings" at the bottom of the menu.
A new panel will appear. The Publish Settings panel is made up of three tabs: General, Layout, and Advanced, which we will cover in the next section.
Publish Settings Configurations
SEO
For Landing pages and Blog posts
Search Result Preview: A live preview of your page on the search results page will be displayed here.
SEO Page Title: Edit your page title here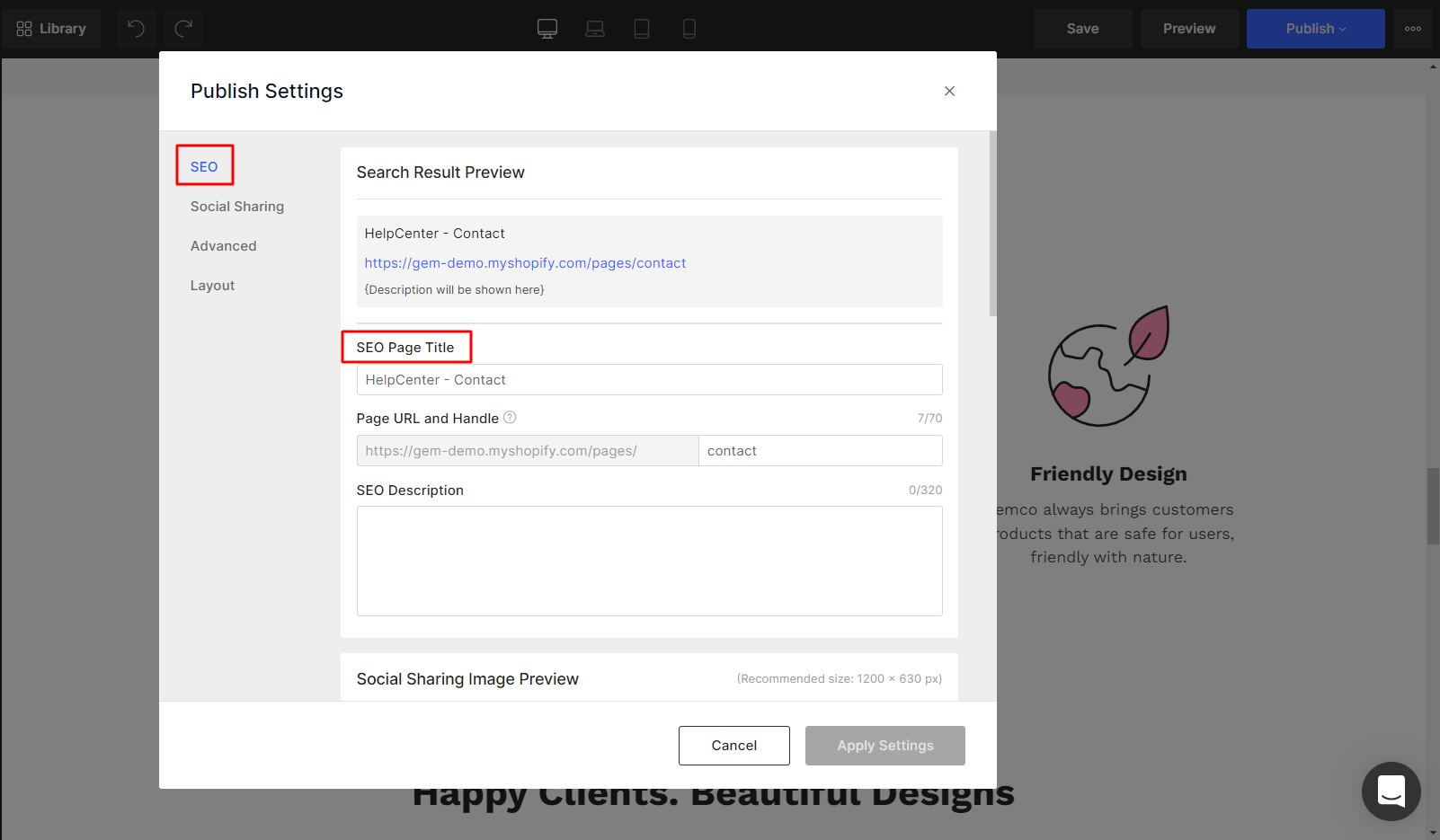 Page URL and handle: Input your prefered page URL address.
SEO description: Fill in the meta description into the field.
Social sharing
You can now upload and use a Featured image (thumbnail) for your page right inside the Editor instead of going to the Shopify Admin panel.
Simply click on the "Upload Image" button and select the image from your device storage.
For Homepage, Product pages, and Collection pages
These page types are directly managed by Shopify, and they only use
GemPages
as a template applied on top. For that reason, SEO-related configurations will have to be done from your
Shopify Admin
panel. See this
Shopify article
for more details.
Advanced
Here, you can toggle Lazy Loading on or off. Check out this article for more information on the Lazy Loading feature.
Lazy Loading
is only available for the
Business
and
Advanced plan
. Visit our
plan and pricing
for a full comparison of all plans.
Layout
In this tab, you can decide to show or hide the Header and Footer sections of your page.
Your saved option will apply as soon as the page is published, however, the Editor will not update until you refresh the page.
For more articles, click here. Should you need any further assistance, our GemPages Support Team is always here to help. We are available for you via email or live chat.