In this article, you will learn how to change plans that suit your business the best at the given time.
On
November 23rd, 2021
, GemPages announced the new updates to the pricing plans. Rest assured that this will not affect your current subscriptions, but only new installs and future upgrades/downgrades. For more information about our new Pricing plan, check out
this article
.
How do I upgrade or downgrade my plan?
GemPages offers various kinds of plans to fit your individual needs. We're fully aware that a business has different requirements in a particular growth stage. Therefore, we make it super simple to upgrade or downgrade your plan.
From the GemPages Dashboard, click on "Upgrade Plan" on the bottom left of the screen.
Otherwise, kindly navigate to Account Settings > Plan Information and select See plans or access the pricing plan via this link.
After that, the pricing plan page shows up like the image below. Please select the plan you would like to upgrade or downgrade to.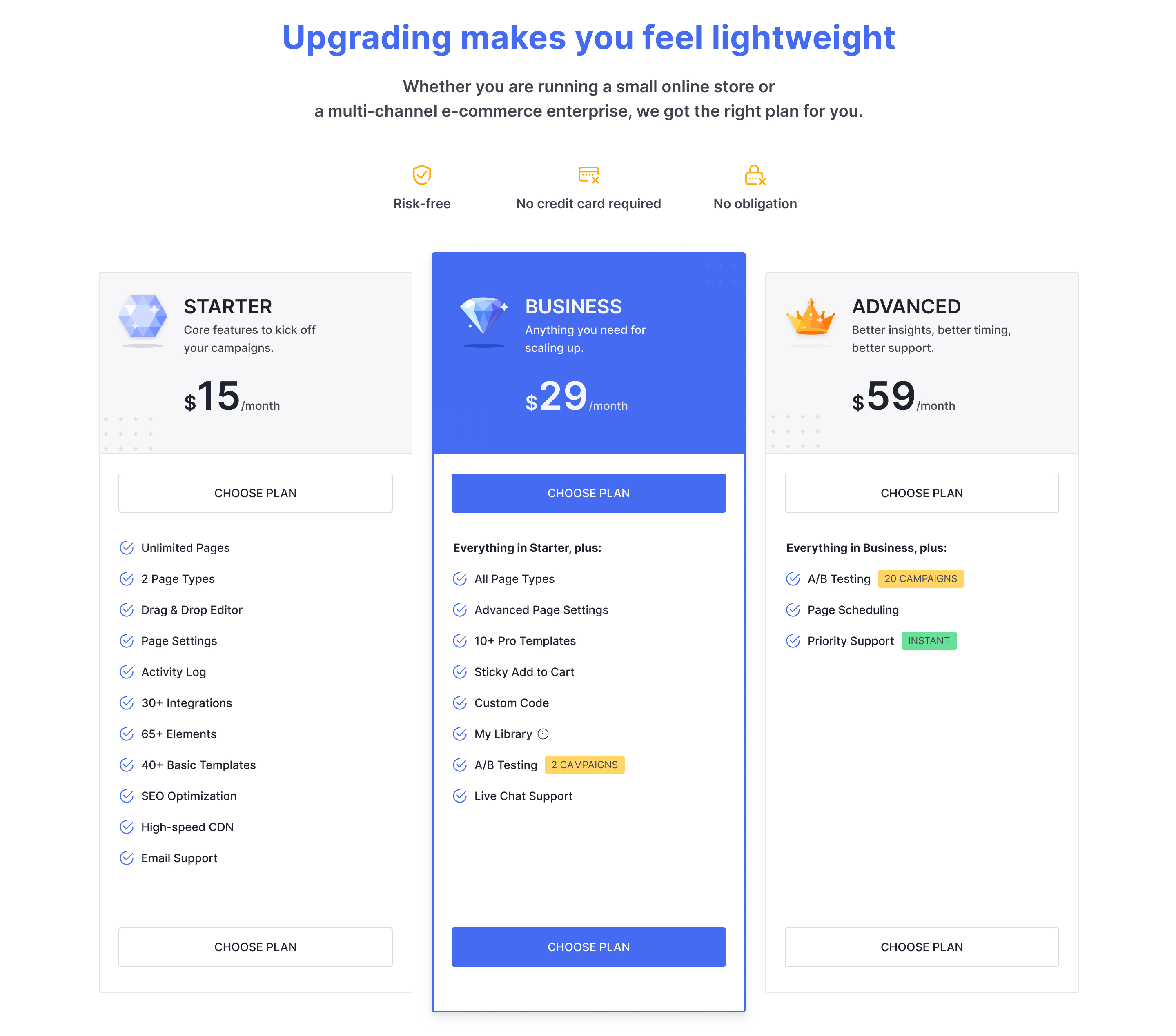 Currently, we offer three types of plans: Starter, Business, and Advanced.
Starter – $15 per month
The Starter plan includes the drag & drop page builder, editing landing pages, home pages, SEO optimization, responsive web design, high-speed CDN loading, Page Settings, Activity Log, 40+ basic templates, and email support. You can also reach the GemPages support team by email within this subscription.
Business – $29 per month
The Business plan provides you with everything in the Starter plan, plus some extras, including product pages, collection pages, blog posts, and 10+ pro templates. You'll also get the custom code editor, sales-booster elements, advanced Pages Settings, Sticky Add To Cart, A/B Testing (2 campaigns), and chat support.
Advanced – $59 per month
The Advanced plan offers you all features in the previous two plans. Plus, this subscription allows you to create up to 20 A/B testing campaigns, schedule publishing your pages, and get access to priority support.
If you're new to GemPages, we welcome you with a
10-day free trial
as a Business user. To install GemPages on your store, click
here
.
Your trial will be forfeited after upgrading to a paid plan.
Your created pages will not be impacted in case you upgrade or downgrade from your current plan.
In case you're running
A/B testing
, all the ongoing campaigns will run until the completion date even when you decide to downgrade your plan.
Will I be charged twice if I change my current plan?
The answer is no, you won't.
If you upgrade or downgrade your plan with an app, the app will prompt you to agree to a new recurring app charge. Since Shopify allows only one recurring app charge to be enabled simultaneously, the existing recurring application charge will be cancelled and replaced by the new charge.
Following Shopify terms, your GemPages billing cycle won't be changed after you upgrade or downgrade your plan.
For example, your current monthly billing cycle is from November 10th to December 10th, and you upgraded your plan from Starter plan to Professional plan on 20th November. The billing cycle will remain the same and not restart from November 20th to December 20th.
Let's say you begin a 30-day billing cycle on a $15.00 plan and then upgrade to a $29.00 plan on day 10 of the billing cycle. You would be charged $15.00 + ($29.00 - $15.00) * (20/30) = $24.33.
- $29.00 - $15.00 is the difference between the Professional plan and the Starter plan.
- 20/30 is the number of days left on your current billing cycle after you update your plan.
- ($29.00 - $15.00) * (20/30)=$9.33 is the prorated fee.
- $24.33 is the fee for the current billing cycle.
When you downgrade your plan, you will be offered an application credit based on the difference in price and the number of days remaining in the billing cycle. Please click here for a better understanding of the Shopify App Billing cycle.
Understanding how to upgrade or downgrade your plan and the differences between them is important to choose the right plan for your business. Hopefully, this article will help make the process as simple and intuitive as possible.
If you have further questions about the topic, please let us know directly via email & live chat to have them answered!