Before we start, make sure you have the
Ryviu
app installed on both your Shopify admin and
GemPages Editor
. If you haven't, please check out
this article
for the full instructions.
Configure Ryviu in the Shopify Admin

As GemPages will fetch data from the Ryviu Product Reviews app, you need to configure everything before designing.

Head over to Shopify Admin > Apps and open the app.

You will find all the necessary configuration tools in the Dashboard. If you need further assistance, the app provides sufficient help docs and customer support.
Set up Ryviu Product Reviews in GemPages

Once you have your product reviews set up, it's time to show them off with the GemPages Editor.

Step 1: In the GemPages Dashboard, select one of your pages and enter the Editor using the "Edit" button.

Step 2: Search for the Ryviu Product Reviews element, then drag & drop it onto your preferred spot on the page.

When the element is clicked on, its configurations will be shown in the left sidebar, including Settings and Design tabs.
Configure the Settings tab
Choose Widget

The Ryviu Product Reviews element offers 5 widget options: Reviews, Star Badge, Star Badge in Collection, Carousel, and Masonry. Based on where you place the element, it will have different widget options:
On a Product page or inside a Product module: All 5 widgets are available.
Elsewhere: Only Carousel and Mansory widgets are available.

You can find descriptions for the 5 widgets in the table below.
| | |
| --- | --- |
| Widget | Function |
| Reviews | Shows the product reviews imported from various sources. |
| Star Badge | Shows the number of reviews and the average rating for the product. This helps customers quickly assess the product quality. |
| Star Badge in Collection | Similar to Star Badge, but applicable to multiple listings in the Product List element. |
| Carousel | Displays reviews in a carousel layout with multiple slides. |
| Masonry | Displays reviews in a column-based grid layout. |
You can have multiple Ryviu widgets on a single page.
Alignment

Select the corresponding tab in this section to position the element as either Left, Centered, or Right. Click on the device icon to switch between 4 different views: Desktop, Laptop, Tablet, and Mobile.
Extra Class
If you excel in coding and would like to further customize the element, feel free to add a class in this field and refer to it later on in the CSS file.
Configure the Design tab

Don't forget to fine-tune the element's look using the Design tab before hitting "Save" and "Publish".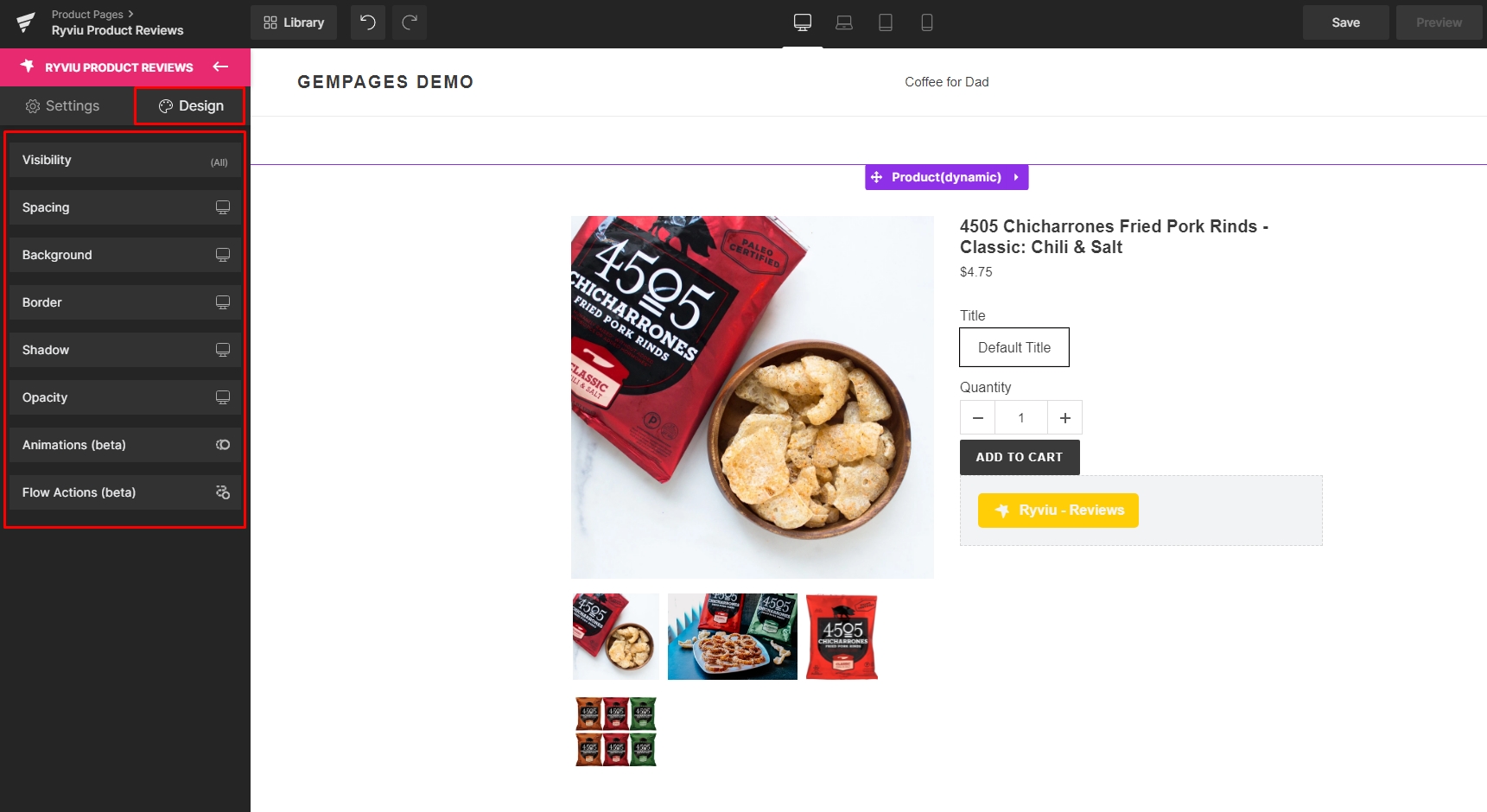 And there you have it! Check out our list of integrations for more apps. If you need any further assistance, our GemPages Support Team is here to help. You can reach us via email or live chat.