This article will answer your most common questions about fonts when designing your store with GemPages.
How do I change my store's font?
Here are the steps to change your store' font:
Step 1: Go to Shopify Admin > Online Store > Themes and click on the "Customize" button to enter the theme editor.
Step 2: Click on Theme settings at the bottom left corner of the editor. Next, click on Typography in the settings item list on the right sidebar.
Step 3: You can view and change the font for Headings and buttons or Body text.
Click on the "Change" button of the chosen section to select your new font.
In the Select font panel, scroll down to browse fonts, or quickly search for the one you need.
Step 4: Hit "Select" and "Save" when you are done.
To change the font of a single element on your page, please follow the guide in this article.
How to check which font I am using?
There are a couple of ways to check your store's font.
Method #1: Check the current font in use by your theme
Follow the steps in the previous section to check which font you are using in the Shopify theme editor.
Method #2: Inspect the live page's code:
Step 1: Open the page you would like to check the font.
Step 2: Hit the F12 key on your keyboard, or right-click on the page and select "Inspect"
Step 3: Click the small cursor icon in the upper right corner of the inspect panel, or hold down CTRL + SHIFT + C, to start inspecting a specific element.
Step 4: Hover your mouse over the text you need to check, you will see the font name along with the size in the small popup window.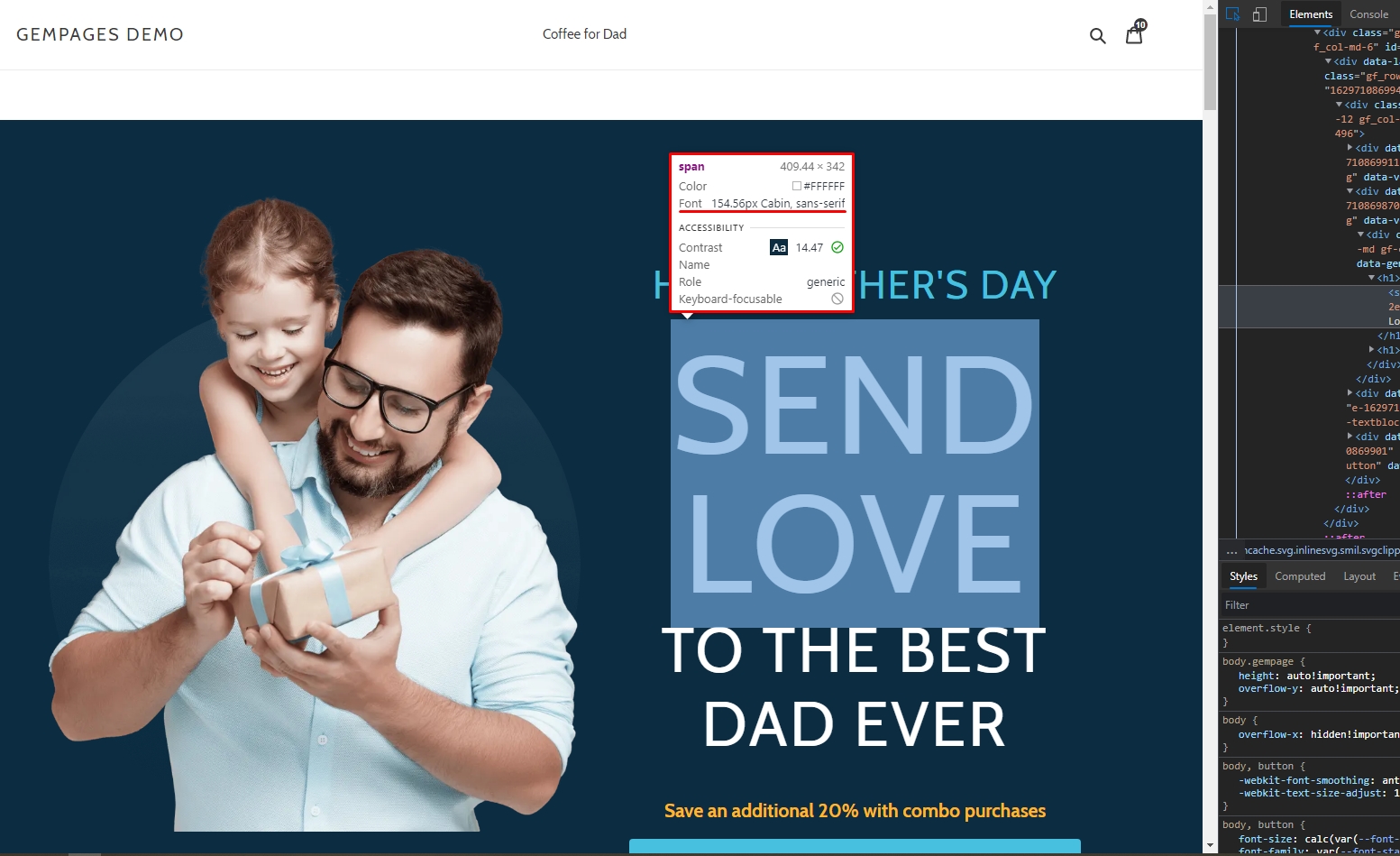 To exit the Inspect panel, hit the F12 key again or click the "X" icon on the far upper right corner.
Method 3: Use a browser extension
There are many free extensions that will detect the font for you. If you're using the Chrome browser, we'd recommend WhatFont and Font Finder.
How do I upload and use a custom font?
If you have a custom font that you would like to use for your store, check out this article that we've prepared with detailed instructions on how to upload and use your custom font with GemPages.
Check out more FAQs articles here and should you need any further assistance, our GemPages Support Team is here to help. Please contact us via email or live chat.