This article will provide you with a glance at all the best things GemPages has to offer.
What is GemPages?
GemPages is an intuitive drag & drop page builder you can use to create visual-stunning, high-converting, and SEO-friendly pages of all types and purposes. We are compatible with any Shopify themes and come with an extensive library of elements, templates, integrations, and sales boosters.
Features
Drag & Drop Editor
GemPages offers you an intuitive drag & drop editor. Just find your wanted element, drag it into the page and customize the look and function. What you see is what you get.
Templates & blocks library
The GemPages Library is packed with 50+ templates and 100+ blocks applicable in just one click.
Responsive web design
GemPages provides you absolute control over web design no matter which device: desktop, laptop, tablet, or mobile. To have a deeper look at the responsive feature, you can refer to this article.
Sales boosters
Based on marketing tactics, we have created empowering elements such as Countdown timer, Stock Counter, Popup, etc., to boost your engagements, sales, and conversion rates.
Integrations
GemPages works perfectly with Facebook Pixel, and Google Analytics and integrates with 30+ top Shopify apps for you to create the most well-rounded online store.
Custom code editor
With GemPages, you don't have to code unless you want to. Check out this article about custom coding to level up your page visual.
Getting started
10-day free trial
If you're new to GemPages, we welcome you with a 10-day free trial as a Business user. After the trial expires, you can continue by choosing a plan that fits your business needs.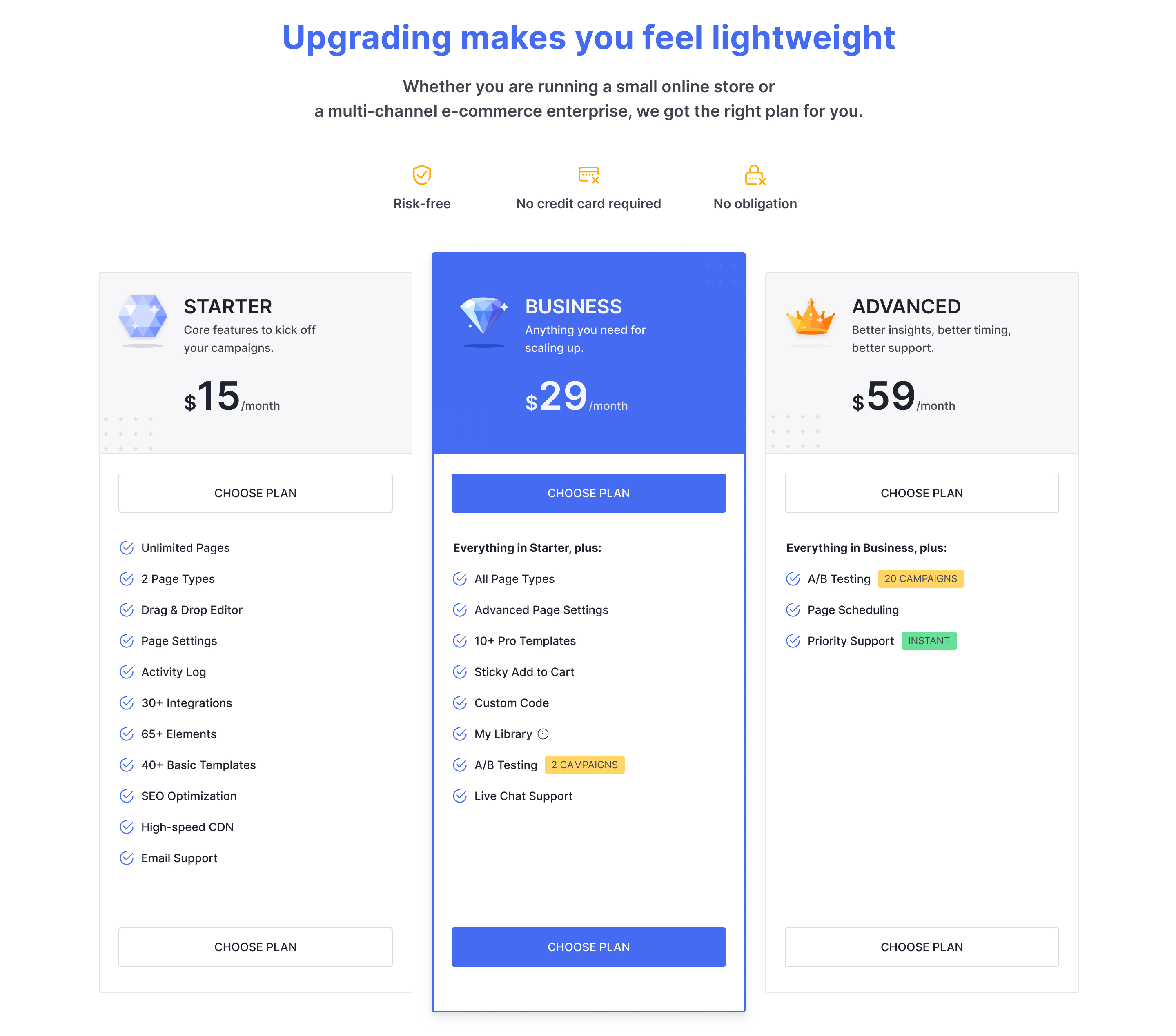 We also offer a money-back guarantee for all plans in the first 30 days of your subscription. If you are not satisfied with our services for any reason, please contact us for a full refund.
The Dashboard and the Editor
The Dashboard is the home of your GemPages. From here, you can design and manage your pages, configure your account and get product updates. For an overview of the GemPages dashboard, you can check out this article.
The Editor is where you will build, edit, and manage your pages. You can access the library of elements, integration, pre-built blocks, and templates to design and structure your content here. Click here for an overview of the GemPages Editor.
Support Channels
If you need any help, feel free to browse through our Help Center, Youtube channel and GemPages Blog for detailed guides and tutorials.
We also provide email and live chat support available 24/7. Our email address is support@gempages.help, and the Live Chat button can be found at the bottom right of the GemPages Dashboard, our website, and this Help Center.